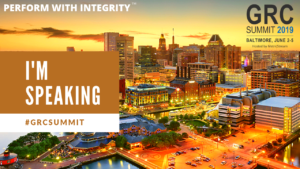 Third Party Risk Management: Driving Enterprise Value
Please join me and your colleagues in an interactive workshop. You'll learn the latest in emerging and best practices to identify, assess, manage and control third party risk. The workshop will feature group and table-top discussion. A great chance to network, and guaranteed to stimulate new ideas.
Here are the headlines:
Context for Change: The Big Picture
What's the Value Proposition?
What are the Risks?
Translating Concept into Action
Your Role in Third Party Risk Management
Solving the Innovation Conundrum
What Does Success Look Like?
See you there!